Hey All!
We only carry a few in store but I wanted to go through and showcase the company as a whole.
So to start, Where did Thumpstar come from anyway?
According to their website:
"Thumpstar was founded 2004 in Australia by a racer named Timothy Hunter. While attending a Trade Fair in late 2003, he stumbled across a pit bike, felt the necessity to import it and make modifications and improvements. In April 2004 he signed a contract with a Taiwanese Company to help build these bikes. Thumpstar was born."
And Now:
"Thumpstar now trades in most western countries. We are one of the largest off-road dirt bike factories in the world and are becoming a renowned name for producing premium pit bikes, dirt bikes and trail motorbikes.
We at Thumpstar focus on the market of off road motorbikes and dirt bikes. We also manufacture 4 wheel all terrain vehicles. All our products are covered by excellent customer support with warehouses and offices in many western countries.
Our website is user friendly where parts are able to be ordered and are delivered efficiently to your door. Our aim is to provide competitive high quality motor cycling at the most affordable price possible."
Simple and to the point.
So here is some info regarding how they define the bikes they sell:
"THUMPSTAR DIRT BIKE OVERVIEW"
"Thumpstar has many Dirt Bike models for customers to choose from. Any motorcycle that can be used off road is generally considered a Dirt Bike but because there are many types of riding conditions. Each Thumpstar model is designed differently and for different age ranges. Generally speaking all Thumpstar models, 190cc and under riders can use as a Pit Bike. To make it easier for customers buying online, Thumpstar has decided to break down our models. Thumpstar will explain the main purpose of each Thumpstar model and point the buyers in the right direction."
They even provide a nice 'lil definition:
"DIRT BIKE DEFINITION"
"A motorcycle designed for use off-road on rough terrain, such as un-surfaced roads or tracks."
Here are a few bikes they manufacture: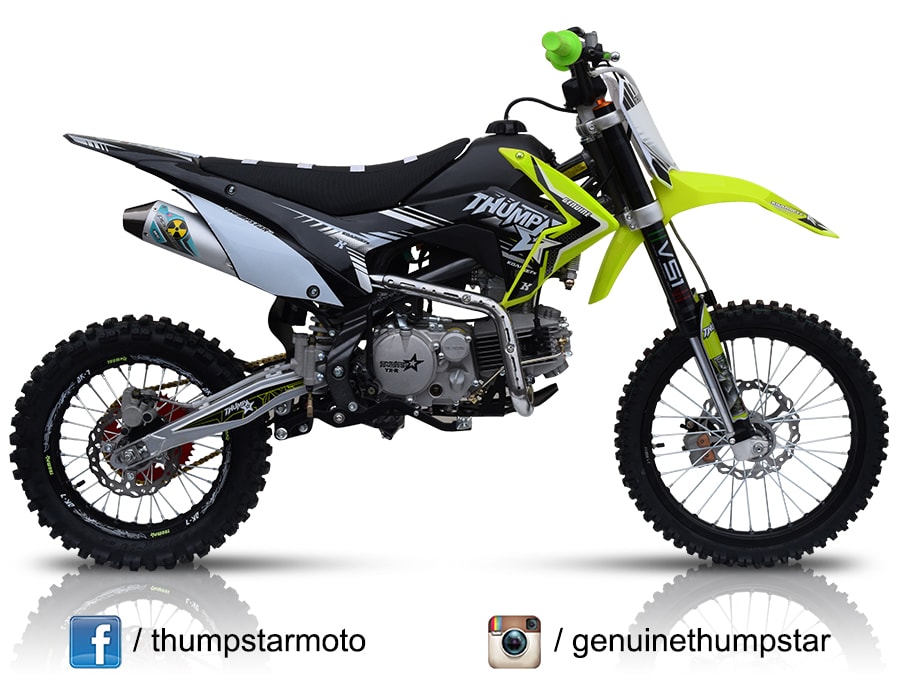 THUMPSTAR TSR 160CC
The main purpose of this model is for Pit Bike racing on closed course tracks but it is also a great bike for Teenagers and Adults. With a 870mm seat height and 160cc motor its smaller than a full sized 250 or 450cc bike, so if your a shorter adult rider, teenager or just do not feel comfortable on a full sized dirt bike then the 160cc is a perfect option for you.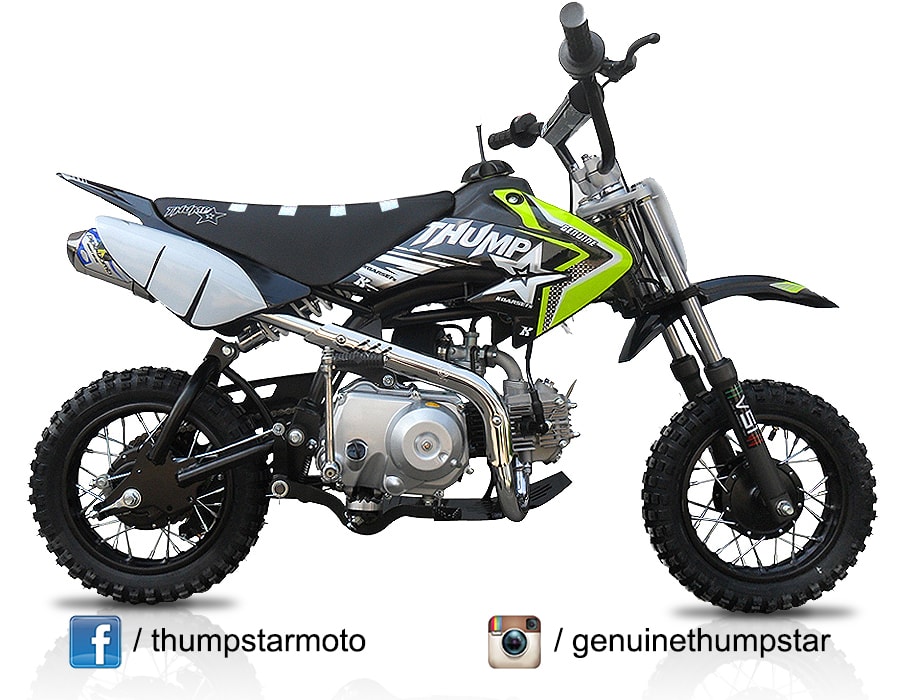 THUMPSTAR TSB 70
The TSB 70cc is designed as a Kids Motorbike. The TSB 70cc has a seat height of around 600mm and is an affordable model for kids to learn on. This model is used by die hard pitbike riders, who prefer the smaller 10inch wheels and lower cc. TSB 70cc similar size and specs to the Honda CRF50. The CRF50 is the orginal pit bike which makes this size popular today.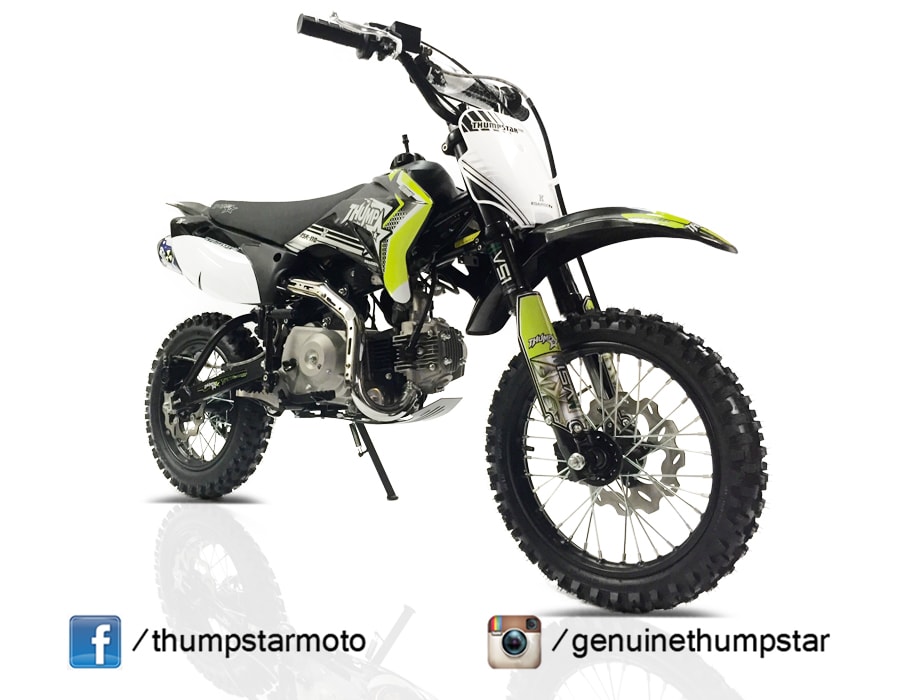 THUMPSTAR TSK 110
TSK 110 is competition for the CRF 110, TTR 110 and DRZ 110. All which are kids motorcycle but many customers use these bikes as Pit Bikes. Usually the customer will need to buy many upgrades for their 110 to make it suitable for adults but the TSK 110 already comes standard with bigger footpegs, higher bars and after market exhaust. Luckily these changes do not affect kids using the TSK 110 as a dirt bike.
That gives you a taste of what we are selling here in the store.
Thumpstar has been making a name in the Dirt Bike world for a while now and they keep getting better every year.
If you're a tinkerer and want a dirt bike to modify and play around with, then one of these might be the right fit for you.
Practically everything on this bike can be pulled apart and adjusted rather easily.
If you're looking to get your kid a dirt bike and want something that works well and is a whole lotta fun, then the new kids line will definitely be a go-to.
"KIDS MOTORBIKES"
"Thumpstars kids range are great bikes to learn to ride on, namely model TSK 50. The TSK 50 is suitable for kids from the age of four to ten years and comes out of the factory with some great features. Including removable training wheels, which is great for getting started. Lanyard to disconnect the power. Front and rear brakes on the handle bar which makes it simple for kids to use the brakes easily. And electric start which saves the kids kick-starting the bikes which could be a big hassle for kids learning to ride. We believe the TSK 50 is the ultimate Kids Motorbikes. There's also option to restrict the throttle so the kids cannot go faster than their ability."
All in all, these are just really nice dirt bikes.
But don't take my word for it.
Come on in and check them out for yourself!
We normally have a few in the store, ready to go.
See ya soon!
Oh yeah, Click on this
LINK
to go straight to their website and see for yourself!
TOP